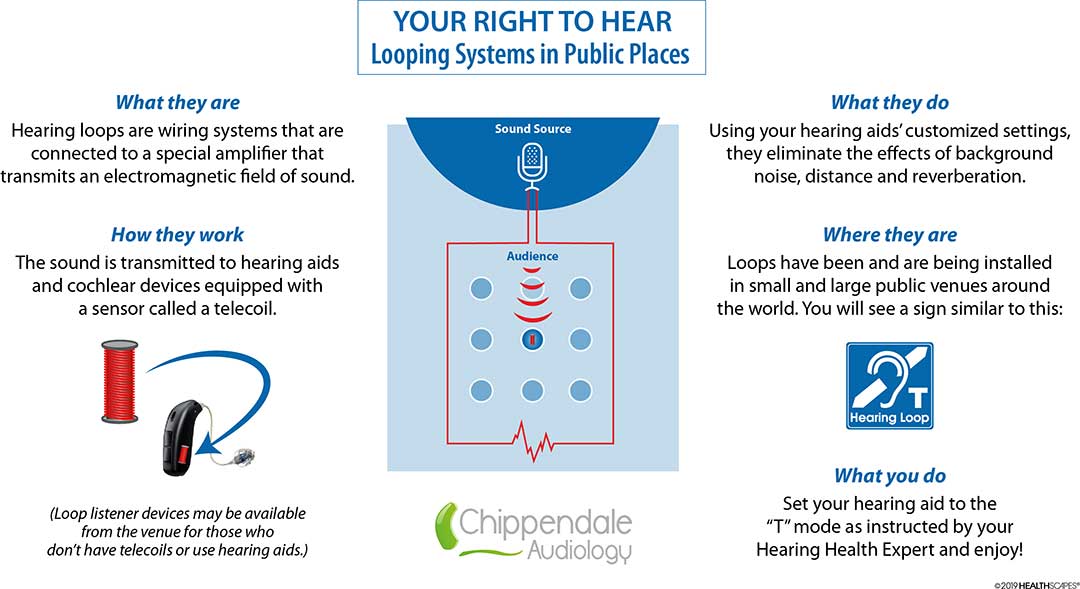 At home, work and play, we want to help you to be Happy to Hear every day. In one-on-one or group conversations, expertly fit hearing devices empower you to hear and understand to the best of your ability. In larger public settings such as places of worship, auditoriums, theaters and performing arts centers, it can be difficult to hear and understand speaker's voices or show's soundtrack…
In these challenging listening situations, you have the Right to Hear what is being said or performed, along with accompanying music or sound effects. Your Right to Hear is not just a quality of life goal, it is legally supported as well.
The American's with Disabilities Act of 1990 distinctly lists hearing or hearing loss as a disability. Persons who are hard of hearing and either prefer or require hearing aid induction loops may be considered for disability under the Americans with Disabilities Act. As excerpted from legal definitions:
(1) Disability
The term "disability" means, with respect to an individual:
(A) a physical or mental impairment that substantially limits one or more major life activities of such individual;

(2) Major Life Activities include, but are not limited to, caring for oneself, performing manual tasks, seeing, hearing, eating, sleeping, walking, standing, lifting, bending, speaking, breathing, learning, reading, concentrating, thinking, communicating, and working.
To learn more about the Americans with Disabilities Act, here are two informative links:
https://www.ada.gov/ada_intro.htm
https://adata.org/factsheet/ADA-overview
Regarding hearing aid induction loops, we seek to empower you with this helpful information:
Your Right to Hear, The 5 W's
Who can enjoy hearing and understanding better in challenging listening environments, with the assistance of specially designed sound systems?
Individuals owning hearing aids with telecoil (T-Coil) feature, which is included in most devices on the market
What type of sound system will be helpful?
A facility's hidden hearing loop wired system is placed around a specific area's perimeter. Sensitive microphones magnetically pick up sound signals and via T-coils, transmit high-quality wireless signal directly into a user's ear.
When is the ability to hear and understand better in public places important?
Always. Doing so will help you experience the joy of hearing to the best of your ability, assisted by advanced technology designed to empower and delight you. Precious sounds matter.
Why are well-designed hearing loop systems to your benefit?
Connect to any hearing devices with T-Coil feature
Discreet, portable, more hygienic than publicly shared headsets and free
Reduce distracting background noise, sound distortion and reverberation from hard surfaces
Comfortably improve hearing and understanding at a distance from speakers or performers
Customize sound signal received by listener's hearing devices with personalized settings
Where can you experience hearing loop system benefits locally?
Look for public venues displaying a universal logo like this:
When this sign is visible, a hearing loop system should be available for your personal benefit.
When visiting public places where looping system needs apply, ask if they have available or might consider in the future.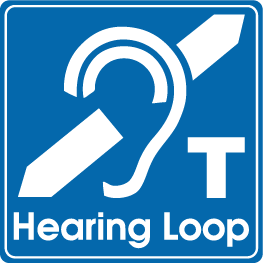 There are many facilities in SW Florida that have looped systems. Going forward, based on community benefits and "Right to Hear" legal requirements, we expect more to become available. As you learn of them, please share with us.
For our current list, which we will update based on new information, click here: